Please leave me a comment letting me that you would like to be entered into a FREE GIVEAWAY of this book; expected publication November 12th. I will pick a winner and that person will get a copy sent to them courtesy of the publisher, Grand Central Publishing.
This is the 13th in the fabulous Pendergast series. I'm thrilled to have gotten mine! I have to admit, I'm a few books behind in the series! So I've started in. where I left off, on #10, (#1 of the Helen series) Fever Dream - and so far I LOVE IT.
Please leave a comment to let me know you're interested
:)
The Wedding Gift by Marlen Suyapa Bodden
I received this book as an Advance Reader Edition, but I can't figure out from who. There is no e-mail telling me I won a giveaway and no letter with the book-just the book. So, I will thank St. Martin's Press and the author for receiving this gift in the mail (and in the future decide on a way to track my entries for giveaways so I can properly thank the correct person or organization. However, one would think they would include a note... no?). Ah, I found a comment on the very bottom on the back cover to send comments to an email at St. Martin's press. So, thank you very much for giving me this ARC to read and review.
For the first 3/4 of the book I kept wondering if this was going to be presented as a young adult book. The writing is very simple, the explanations of things very thorough, but I felt no depth beyond the descriptions of plantation life.
The reader is presented with chapters written in two voices. Each voice is clearly marked at the beginning of each chapter and one voice may go on for several chapters at a time to tell her side of the stories. The first voice is Sarah, born to a house slave and The Master, she is half sister to the woman she will end up serving when they are both adults. As children they play together, and when Sarah learns at a young age it is illegal for slaves to read, she convinces her playmate to let her sit in on lessons. Sarah also has a half sister from her mothers previous marriage; we learn that the husband was sold. Sarah's one overriding goal in life is to run away from the plantation and be free.
The second voice is the mother of Sarah's sister: Theodora, mistress of the house. She speaks of her life before her marriage, moving into her new home, and learning the rules her husband expects of her as Mistress of the plantation (including her having to come to accept the mistress in her husbands bed). Theodora dotes on her daughter Clarissa (the boys being sent away to school). Where Theodora is intelligent and thoughtful, Clarissa grows up to be spoiled and intractable.
When Clarissa get's married, I started to wonder if the book would still be appropriate for young adults. After some thought, I decided, yes. It's a very good overview of the best and the worst of slavery told in a language that anyone can understand (PG13).
I'd rather give it 3.5 stars, however since that's not an option, I'll give 4.
This review is also posted on GoodReads.com.
Mayflower: A Story of Courage, Community, and War by Nathaniel Philbrick
My mom gave me this book; I do like most things genealogical, historical, and Americana (through WWI). Somewhere in my genealogical research a few years ago, I discovered that my mom's family has a line that *may* go back to William Brewster of the Mayflower, somehow. My ancestory.com account is deactivated, and I'm not yet ready to go back to that hobby anytime soon. If I do decide to pursue it later, I need to remember that it was potentially through the Tappen line.
The beginning of the book is what I remember from school and other reading for pleasure. Not the sanitized President Lincoln form of the Thanksgiving holiday that many of us celebrate now, but the clash and symbiotic relationship that developed between the Pilgrims and Massasoit, the local Indian leader. This relationship would remain peaceful until his death and his crazy son, who came to be known as King Philip, started a sickening and costly war. Costly in terms of lives of both Indians and New England settlers (from Maine to Delaware), and what little property there was on either side, shelters/buildings, animals, tools-all destroyed. The battles are retold in horrific detail based on the accounts of Englishmen who fought in these massacres - this part of the book I could barely get through. Though it's certainly not taught in school, even slavery is common during this early period of America; shipping the captured Indians off to the Caribbean Islands to work on plantations there. Though it is United States history and to better understand the sufferings of the past and present, it is necessary to learn the details. The final chapter, Conclusion, is a wonderful summery of the book, without the gore, but with the lessons. After King Philips war ended, at his death. The path was laid for fighting a combined French and Indian force, starting just 13 years later in 1689, even though the official French and Indian War did not start until the 1750s.
This review is also posted on GoodReads.com
.
If I could, I would have given it 4.5 stars, since I had to choose, I went with 4. I won't be rereading this one so I rounded down instead of up.

This Thanksgiving I will be eating a Paleo meal with my mom and step-father. Since they are both usually vegetarian, I'm not sure if we'll have turkey or another local farm raised meat; but I know there will be wonderful organic fruits and vegetables! (a friend has gifted

me Practical Paleo: A Customized Approach to Health and a Whole-Foods Lifestyle

by

Diane Sanfilippo

, if you're interested in checking it out.)
Happy Thanksgiving Everyone!
Amazon rant ----- these are taken from Facebook Posts I made when the Amazon articles came out. I wanted to share them and ask everyone to buy Indie. Think of this way... The cost of shipping (they do NOT use media mail) eats up the savings you get; you might as well get friendly with your closest Indie bookstore (many have frequent buyers clubs and such), and once you know them well enough, perhaps they'll give you discounted rates on shipping - or at least ship media mail $3.99 for a book. Really, I think Amazon is kind of evil and definitely bad for the economy as a whole. It is hurting both publishers and independent book sellers, which in turn, hurts book readers. Okay. I'm going to finish this up and post it already.



FB Post:
My question is, why aren't they charging book rate? That's a usually a flat fee, I've seen some of their shipping rates, another reason why I won't order books from them.

Buy indie.
From the e-mail newsletter Shelf Awareness for Wednesday, October 23, 2013: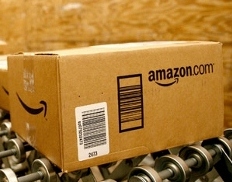 Amazon has
raised its minimum order
for "Free Super Saver Shipping" from $25 to $35, saying to customers that "this is the first time in more than a decade that Amazon has altered the minimum order for free shipping in the U.S."
"Free shipping has long been a cornerstone of Amazon.com's growth strategy," observed Paulo Santos in a post at Seeking Alpha. "Moving this threshold is a
borderline desperate measure
. A measure which would only be taken if Amazon.com internally was looking at some seriously ugly numbers." The company reports third-quarter results tomorrow, which had already been expected to be in the red.
In addition, the
New York Times
reported the online retailer had made another "at the edges" change earlier this summer, when "devoted Prime users discovered that the company had
started charging variable amounts
according to size and weight, with a minimum of $2.99," rather than the previous deal through which Prime customers received free two-day shipping service, but could get next-day delivery for an additional $3.99 per item.
---
Amazon plans to open a one million-square-foot fulfillment center in Baltimore that will create more than 1,000 full-time jobs. In its announcement, the company said, "We are grateful to the state and local elected officials who supported Amazon coming to Maryland and we look forward to being a part of the community."
---
On another shipping battlefront,
eBay has acquired Shutl
, a "marketplace that uses a network of couriers to deliver local goods on a same-day basis," ReadWrite reported, adding that
Shutl
, "which lists its speediest delivery to date as a little under 14 minutes after purchase, could give eBay a leg up on same-day shipping rival, Amazon. Currently, Amazon offers same-day shipping in select American cities."
FB Post:


I have a tolerate/loathe relationship with Amazon. They also recently opened warehouses in California, providing jobs (and according to what I read earlier today, they're still hiring). I'd really like to read this book.



From the e-mail newsletter Shelf Awareness for Tuesday, October 22, 2013
First the news, then some unfortunate tales from inside Amazon and, finally, detailed analysis:
Amazon has confirmed that it is
opening two warehouses in the Czech Republic
, one near the airport in Prague, the other in Brno, which is near Vienna, Austria. The company recently announced that it is opening three warehouses in Poland. When the warehouses open next year, the company will have 25 of them in seven European countries.
---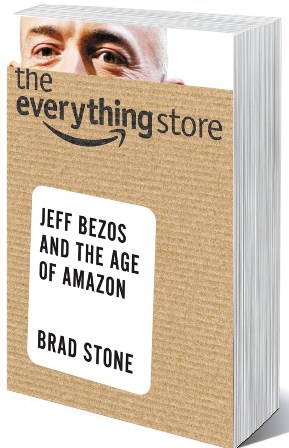 The New York Times pulls a few revolting tidbits from Brad Stone's new book, The Everything Store: Jeff Bezos and the Age of Amazon (Little, Brown). By 2004, Stone recounted,
Amazon was squeezing large book publishers
, demanding "steeper discounts, longer periods to pay, and better shipping," the Times wrote. Amazon CEO Jeff Bezos "then turned up the heat on the most vulnerable publishers [smaller publishers]--those most dependent on Amazon.
"The company's relationship with those publishers was called the Gazelle Project after Mr. Bezos said Amazon 'should approach these small publishers the way a cheetah would pursue a sickly gazelle.' A joke, perhaps, but such an aggressive one that Amazon's lawyers demanded the Gazelle Project be renamed the Small Publishers Negotiation Program.
"Mr. Stone writes that Randy Miller, an Amazon executive in charge of a similar program in Europe, 'took an almost sadistic delight in pressuring book publishers to give Amazon more favorable financial terms.' Mr. Miller would move their books to full price, take them off the recommendation engine or promote competing titles until he got better terms out of them, the book says.
" 'I did everything I could to screw with their performance,' Mr. Miller told the writer. The program was called Pay to Play until the Amazon lawyers changed it to Vendor Realignment."
---

Several stories this week about Amazon, which reports third-quarter results on Thursday, focus on the

$75-billion company's lack of profits

, except for a few periods when Wall Street applied short-lived pressure for the company to make money.


As economist and venture capitalist William H. Janeway told the New York Times: "This isn't supposed to happen. It violates mainstream finance theory. Very few companies have been valued this way outside a systemic bubble."
Consensus appears to be that to make money Amazon would need to raise prices on products and services like below-cost shipping, but that "might alienate customers and slow down [the company's] roaring revenue growth," the Times wrote.
The company likely will continue with its current strategy of seeking to dominate all markets it enters and doing many things customers like--such as allowing many of them to keep products being returned for credit--that other companies would find financially disastrous. It's a simple and unusual model allowed because Wall Street continues to drive up the value of the company's stock. As Colin Gillis, senior tech analyst at BGC Partners, told the Times, "It is easier to sell things and not make money than it is to sell things and make money."


---




In the same vein, Seeking Alpha calls Amazon "a fantastic company: dedicated, innovative, even daring," but says "

the moment is approaching when investors may no longer be willing

to support the current valuation of the company.

"Shares in Amazon.com are trading at price-to-earnings ratio of 360, or 108 using the next year's expected profits, and the earnings multiple was at these levels for most of 16 years since the company went public. Very few companies in history managed to keep their valuations so high for so long. Investors believe that at some point in the future the company will be able to translate its rapidly growing sales into substantial profits." But Seeking Alpha argues that this won't happen soon:

"Benefits of scale have been realized by now. Growing from 1 warehouse to 5 cuts delivery times dramatically. Adding 7 new facilities (announced plans) to the existing 49 distribution centers in the U.S. will not result in the same rate of improvement. The same logic applies to all the other areas of customer experience and internal operations.

"In fact, Amazon may have reached the point where the economy of scale turns negative, i.e. further growth leads to more expenses, not less. For example, the company has many more markets to support--both in geographical and in product terms, more business units to manage, and more platforms to develop and maintain. It used to sell [only] books [only] in the U.S. Now it sells everything from groceries to paintings, operates on several continents, develops its own hardware and software, streams movies, offers software services, etc. It is a valid growth strategy, but this fragmentation makes it very hard to substantially improve operational efficiencies from the current levels."

Even though Amazon has won some major battles, competition continues to be fierce, Seeking Alpha wrote, and "in many areas the company faces tougher competition today than ever before (e.g. media, tablets). There are hundreds of online retailers, like BHPhotoVideo.com or Tennis-Warehouse.com, that carved out their own niches and seem to be doing fine.

"Any attempt by Amazon.com to raise prices or scale back customer service (including free movies, free delivery, etc.), will give a second wind to all the competitors that collectively represent a formidable threat. Selling merchandise online is a low-margin business, and it will remain so in the foreseeable future."

The Kindle was introduced and sold at a loss with the premise that losses would be "more than offset by sales of digital content to the owners of these devices. This assumption has already proved to be wrong. Most buyers of the original Kindles have already upgraded to the newer versions, so any loss on sales of those units was never recovered. More importantly, by now consumers own tens of millions of Amazon devices, and the company already offers a huge selection of content, but the profits never materialized."

Amazon Web Services likely accounts for more than half of all Amazon profits expected this year, Seeking Alpha wrote, which makes the service "the only bright spot in Amazon's portfolio, and, by extension, means that the situation in other businesses is even worse....

"The bottom-line here is that AWS is a viable growing business, but it will be a few more years before it is big enough to contribute at least $1 billion to Amazon's profits. By that time investors may start questioning the wisdom of moving all these packages around, streaming movies and selling tablets at a loss, when most profits come from the services division."


Thanks for Reading!